Welcome To EM SOS: Time Is No A Reason For Fatal Results With Air Ambulance Services
EM SOS is one of the fastest and most advantaged emergency air ambulance services, where we shift the person suffering from the medical illness within the least possible moment. Our air ambulance will be completely equipped with the ICU Theater under the supervision of the expert medical team to make the vehicle advanced supporting emergency services. We are working with a team of cardiologists, urologists, neurologists, nephrologists, etc. So, they will start the treatment or at least carry out the first aid to stop the patients advancing critical stage.
Medical Professional by default in the Ambulance
 FR flight nurses
 Icu-Ccu Certified Registered Flight Nurse
 Anesthesiologists
 Flight Respiratory Therapists
 Advanced Life Support Critical Care Flight Paramedics
 Advanced Rns And Paramedics
How do we work?
Once you explain to us about the medical emergency and the need for the airlift, we will inform or alert the medical team about the needs. They will soon analyze the medical report and come out with the action plan quickly. With confirmation from the medical team, we will inform the family and soon arrive at the airport or the hospital where we need to pick the patients. We board them on the ICU aircraft and start moving to the country or state where the patient can have the best treatment.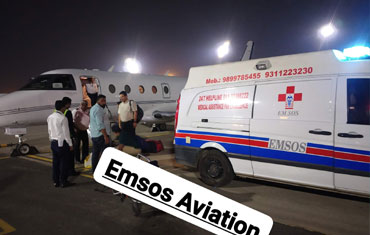 Call us for any emergency shifting of the patients!
With our expert medical staff, experienced pilots, state-of-art aircraft, we are the leading air ambulance company to ensure that your loved ones are in the safe hands. We also offer the medical insurance experts on the staff who will help you with assured benefits, track and submit the track claims to the closure of it. So, you can trust us at EM SOS and hand over the responsibility with us to save the life of the loved ones.