International Commercial Stretcher Service
Approach EM SOS For Saving Life Through International Commercial Stretcher Service
We understand that transporting the patients for the other country will be a challenging task. When the patient cannot sit during the journey, the transfer becomes even harder. Only the right international commercial stretcher service can help you during such situations.
EM SOS has been serving in the industry for years and holds the record of successfully transferring the patients to the destination with this service. We customize the service based on the needs and follow the specialist available in a flight with the ICU registered nurse, physician, registered respiratory therapist, nurse and other paramedics.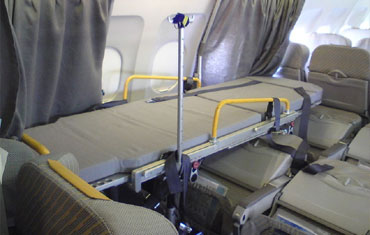 Our international commercial Structure Transport Service
EM SOS can transfer from any location to the other with the international commercial stretcher service on the commercial airlines. We need to have some advance planning for the safe journey. In the typical commercial structure transport, we will block the rows of seats on the commercial airlines, and this will allow the rooms for the patients. The area is equipped with the necessary things and surrounded with the curtains for the comfort of the patients.
All our flight crew and the medical staff are licensed and they are the professionals who are trained in Aeromedical medicine and critical care transport. We also arrange and coordinate the entire air commercial stretcher transport to offer a safe journey. All these will help the patients in several ways like,
 Obtaining The Required Airline Medical Clearance Through The Airline Medical Desk
 Arranging The Coordinate All Ground Transportation At Both The Source And Destination
 Coordinates The Entire Transfer And Update It Periodically To The Family
 Booking For The Stretcher Installation And The Airline Tickets Arrangement For The Patients
So, we are here to serve to save the lives of your loved ones. Approach us at a time for any such needs!